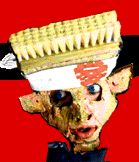 Flathead's TeleCircular Viewpoint
FLATHEAD: So, maybe you are wondering where to start. Follow me if you like, as I slice off some choice cuts from sf/TeleCircus.

Let's start on the Mainstage.

For as close you're going to get to the smell of a roadhouse breakfast, here's Joe Ed Lambert (58k) with the chow call from Joe's Digital Diner.

After 20 years of knocking out exceptional non-hits, here's a sound clip from the new CD-ROM, " Gingerbread Man" (370K) by the Residents.

A time-lapsed desert sunset before the burning of a giant wooden effigy is captured in the video clip "Clouds" (635k) from Burning Man.

If you need anymore evidence that pagan lovefests are what's happenng, here's a Cobra Dance (698k) from COBRA LOUNGE.

Here's a video clip from the Stone Temple Pilots tour (689k), featuring computer graphics from Cyberlab7.

San Fran Party time, through the video peephole around the Ghosthaus Maze (774k) at Anon Salon.

Don't miss the action on the SideShow.

First, the adventures of that hapless oaf, Bug-Eyed Joe (353k) from Brain-Box Comix.

Don't miss the dazzling Murder, she wrote... (1222k) scene from the film, "The Cabinet of Dr. Caligari", composed and played by Club Foot Orchestra.

Howza 'bout a joyous clip of the song "UMOJA" (918k), from the latest CD from the band, D'CucKOO?

The sensual and psychedelic styles of Indian silks and brocades (80k) from the Phassion folks at Labyrinth.