Anon Salon
---
ANON SALON provides social stimulation, intelligent flirtation, and interactive artforms.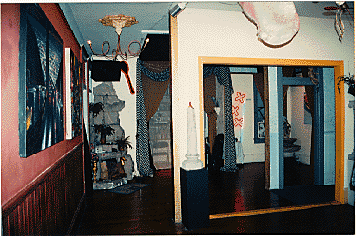 In art, first comes the idea, then the form. ANON SALON is a place to grab those ideas on the upbeat.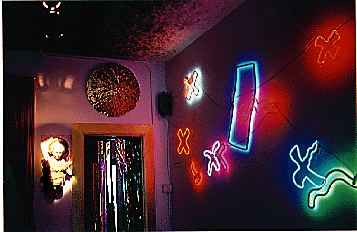 ANON SALON teases technology, embraces the arts, and dances with the unknown.
ANON SALON is a nearly monthly party/event/performance that showcases the diversity of art and performance activity in the Bay Area. Located in a gallery space on 9th Street, South of Market, with occasional excursions off-site, ANON SALON is moving into its third year, though its roots go back through Climate Theatre to gallery and Glashaus parties of the early 80's. ANON SALON is presented as a benefit for Climate Theatre, and in association with Icon Byte Bar and Grill.

Hall of art (Quicktime 707k)
ANON SALON showcases artists and work that are reflective of a very broad spectrum of expression. In these convergent times, the task before us is to become as inclusive of diversity as possible, and to seek out the highest common ground. This is a task that the Bay Area art and media scene is uniquely well suited to fulfill. In the metaverse of possibilities, analog and digital paths converge. ANON SALON attempts to provide a locus for that to happen.

Maze (Quicktime 774k)
As you take the maze-like walk-through, conversations blend together. Here you will find software developers in conversation with fashion designers, journalists chatting up motorcycle mechanics. Who the hell cares, it's a party. Fine art and found art, videophones and finger paint, digeridoos and radio controlled MIDI floors, spoken word and beta version software, tap-dancers and a life drawing class, all have their place in the larger mix.

Flaming sword (Quicktime 783k)
ANON SALON operates on the premise that media and a whole lot more in the 90's is destined to converge. The digital metaphor has rewritten the ground rules and now the ground is becoming increasingly ritualized as we see the need to bring to cyberspace that which inspires fresh thought. First the fun. The rest will follow.
ANON SALON is the work of the party hackers of pARTy/SCIENCE, Joegh Bullock, Marcia Crosby, (Climate Theatre and Icon Byte Bar and Grill ) and Mark Petrakis (COBRA LOUNGE)
---
For more information on ANON SALON e-mail climate@well.com.
---

Back Stage

sf/Telecircus